Social media helps people connect with potential customers. Social media platforms have become one of the trendiest forms of marketing. If you have a business and you are not promoting it on social media, you are missing out on its benefits.
The most common channels used by marketers are LinkedIn, Twitter, Facebook, and Instagram. But Twitter has emerged as the biggest marketing channel because of several reasons.
Although Twitter does not allow users to post long-form content, this site is still famous. This is because it implies that you can entertain the audience by just using a few words.
Want to know how to write for Twitter? Dive in!
How to Write Content for Twitter That Goes Viral
Twitter has the potential to convert prospects into leads. Therefore, you must know the strategies for composing tweets. Then, follow the steps given below to write content that goes viral.
1. Write Engaging Headlines
We all know that you cannot write lengthy content because of the character limit. But you can still write compelling content to attract people. Moreover, if your headline is unique, the audience will remember it for a long time.
You know people are not going to read your tweet if your headline is boring. Thus, make sure to craft fascinating headlines by playing with words to capture the audience's attention. Consider the Example given below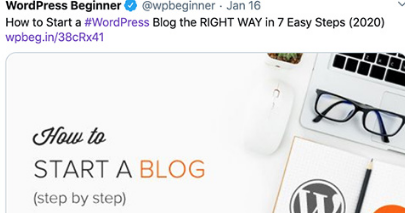 2. Use Proper Hashtags
Yes, Twitter is the place for hashtags. You have to ensure that you know which hashtag you have to use to attract the right type of traffic. The purpose of hashtags is to group the tweets in a particular place so the audience easily finds them.
Moreover, with the help of hashtags, you can also increase the effectiveness of your tweets. But, be mindful of using too many hashtags in a single tweet. If you want to make your brand stand out, then use relevant hashtags only.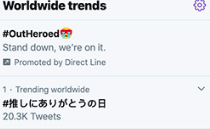 3. Tweet Newsworthy Topics
If you want people to notice your account, then you have to stay relevant. You can be relevant by posting newsworthy topics. Make sure you post facts, informational content, or something related to current affairs. Thus, these people will find your account credentials.
In this way, your account will catch the public's eye. Be mindful that you don't spam the feed of your followers. Your aim is to increase your audience engagement, so post-worthy content.
4. Add the Element of Humor
Aren't we all tired of listening to the devastating news? No matter what your brand is about or what you sell, you don't have to sound serious all the time to sell your services. Thus, it is highly important that you add a touch of humor to your tweets.
If you entertain an audience, then your Twitter threads can get viral. In addition to that, the audience loves those accounts that can entertain them. The touch of humor can make you famous within seconds. Of course, you can also check the account of innocent drinks, as they add a touch of humor in almost all of their tweets.
5. Tell Your Story
Your tweets do not have to be about persuading people to buy your product. Instead, your aim is to make your audience feel valuable by engaging with them on a personal level as well.
You surely can post informational content or humorous content as much as you like. However, the story does not end here. It would help if you told your audience a personal story too. If you want better results, then don't always post informational content. Thus, talk about your journey or share behind the scenes.
6. Be Engaging
Are you packing all your efforts to create a single tweet? Of course, but it does not mean that you have to be serious to sound professional.
Prospects are attracted to the businesses ready to cater to their problems or interact with them. If you sound robotic or monotonous, customers might not be inclined to buy from you. Instead, try to engage with the prospects to convert them into leads.
7. Post Visuals
Do not limit yourself by tweeting things. Your customers will easily get bored if you do this. Remember, your aim is to entertain your audience and keep them hooked.
Thus, post visuals so the audience finds you more entertaining. If you keep posting different forms of content, this will create hype among the audience. You can even boost your audience's engagement with it. Visuals can convert the dry content into a compelling one.
8. Talk to People
You cannot always persuade people to buy your product. Instead, establish a relationship with your audience. Not all your audience members would always want to buy your product. SO you can talk to them by initiating discussions. Ensure that your tone is friendly and thoughtful, so they feel comfortable enough to interact with you.
It will help if you focus on creative ideas to initiate better conversations with the prospects. But, if you like you are struggling with the content ideas, don't stress yourself. Think about the conversations you can have with your friend, and you will gather millions of ideas!
9. Include Call-to-Action Words
Do not end your tweets abruptly. You should always add a few call-to-action words in your posts. Also, add trigger words to boost your audience's engagement.
If you are confused about which call-to-action words to use in your work, check your competitors' sites and see how they are increasing their audience engagement.
10. Tweet at the Right Time
Your first job is to identify your target audience on Twitter and brainstorm creative ideas. The next thing is to analyze the right time to post your tweet. You can also go through research stating when you can post your content or examine when most of your followers stay active.
The reason is that you want to increase your audience engagement so that your account gets noticed. For this, you can use Buffer to schedule your tweets and generate better results.
How to Write Tweets That Drive Traffic
Are you planning to drive massive traffic? Wondering how to write for Twitter? Follow the tips given below
The greatest way of generating traffic is to attach the URL of your website to your Twitter profiles.
You can keep your best tweet pinned to show your credibility.
Tweet consistently to increase your followers.
Identify your target audience and post as per their preferences.
Keep your Twitter profile updated to build your credibility.
Don't tweet frequently but find the best time to tweet. In this way, the maximum number of followers will see your tweets.
You can reshare your old tweet so your new followers can see your posts.
Ask your followers to like and comment on your tweet, which appears on their feed.
Post on relevant days to ensure that your account stays relevant.
Make sure you join the trends and discuss them with your audience to keep them engaged.
Promote your tweet on your other social media channels.
Who Is Twitter Good For?
Twitter is for people who want to build their brand authority. Moreover, if you use Twitter, you can gain several followers. There are millions of active users on Twitter. All you have to do is find your target audience and engage with them.
1. Celebrities
Twitter is for celebrities because of several different reasons. First, people love interacting with their favorite celebrities as it gives them a chance to show their loyalty.
Other than that, it also allows the fans to know the thoughts and opinions of their favorite celebrities. Nothing is more important for a fan than interacting with their favorite celebrities.
2. Subject Matter Experts
Subject matter experts know how they have to attract customers. Thus, if you are a subject matter expert, then you should use Twitter.
Do you know what is crucial for SEO? The answer is to add relevance to the subject of the post. By posting quality content on Twitter, you can increase your credibility. In addition, people like interacting with subject matters that provide accurate advice.
3. Business Owners
If you are a business owner and still not using Twitter, you are missing out! The businesses aim to increase their sales and build their brand authority.
Thus, learn the tactics of posting an excellent tweet to ensure that the audience knows you exist. Twitter can benefit your business in several ways as it can give you an insight into what is happening in the business world.
Insanely Viral Tweets Of The Recent Times
2021 was a crazy year for Twitter. So many tweets went viral last year!. Let's have a look at some of the examples of tweets from 2021, so you too can get an idea about how to make a good tweet.
1. The Loving Grandmother
2. Tough Situation
3. Pandemic: Life is not good
4. Perfect Office
5. Words of Wisdom
6. Bury me Today!
7. Humor Ends Here
8. Tomato Party
9. Perfect Wish
10. Cat Thief
People post interesting content on Twitter. It is indeed an amazing place, so you can get viral by simply making the audience laugh. We hope you enjoyed reading the viral tweets of 2021.
You can easily connect with people by posting interesting stuff. Thus, use Twitter to ensure that you stay connected to the world.
Benefits of Using Twitter
Twitter offers a lot of benefits to users. Let's have a look at some of them.
1. Customer Engagement
People do not like reading blogs or articles all the time. Thus, they look for entertaining content on social media channels. The reason Twitter is growing rapidly.
You only have to post creative content to connect with the customers. Various brands use Twitter to discover their worth among the audience. With Twitter, increasing your customer engagement is easier than ever.
2. Increased Brand Awareness
When you post effective text ads or quality tweets, your account gets noticed. People discover that your brand exists, and your followers increase.
Thus, this also increases your brands' worth, and you can give better competition to your rivals. However, the market is competitive, and you should work on ensuring that your brand stands out.
3. Your Personal Customer Channel
Twitter gives you the chance to interact with customers. For example, you can conduct surveys or ask them for feedback.
Twitter gives you the chance to improve your product by asking the customers what they think about your products. Even if the customer is not satisfied with your product, they will feel valued if you take into account their concerns and needs.
4. You Build Your Community
More than 200 million people use Twitter for different purposes. Thus, it is important to build your social media community on Twitter. There should always be people who like your product or tweets etc.
When you know the interests and preferences of your community, you can interact with them easily. In this way, you will continue to generate sales and retain your loyal customers.
5. Measurable Results
It is easy for you to measure the effectiveness of your tweets. Measuring the success of your posts is important because it can track the worthiness of your brand.
Thus, on Twitter, a new impression is counted every time your tweet appears on others' feeds. Moreover, tracking impressions on Twitter is also easier.
With this, you understand how well your tweets are doing among the audience.
6. You Expand Your Reach
Do you know that you can connect with the audience globally with good tweets? So, for example, you can target adolescents globally if you want to target them. So it is important that you creatively connect with them.
In this way, you can grab sales on the international level and generate revenues on the greater level.
7. You Stay Informed
Twitter is where people, brands, businesses, news channels, etc., keep on tweeting relevant stuff. So if you are too busy to watch the news channels, then we suggest you stay active on Twitter. Also, it is essential to know what is happening in the Twitter world.
Moreover, if you want to build your brand authority, ensure that you keep tabs on current news. In this way, you build your brand authority, and your followers start trusting you. Work on gathering market intelligence data to stay ahead of the marketing game.
Writing Services Hub on the Go
Social media ad copywriting is essential, and you need good writers who can help you write excellent content.
Writing Services Hub has a good team of professional ad copywriters who can draft compelling content for your brand. Our writers are not just content writers, but they are content strategists. Thus, they can help you devise the right content strategies that will give you great results.
Conclusion
We hope you are not going to Google how to write for Twitter after reading this post! Twitter writing is indeed challenging. After all, it is a social media platform that relies heavily on innovative words and content. However, if you want your followers to like your Twitter content and really build a following there, you need to pay attention to what you are putting up here!
Do you struggle with coming up with material that boosts engagement? Why not hire a good digital marketing agency that can handle your social media account for you? A good writer can help you post relevant tweets and make your account more visible. It's definitely something worth looking into.
If you are a business owner and looking for professional writers who can help you write viral tweets, then you are at the correct place. The content team at Writing Services Hub doesn't compromise on the quality of the work delivered! If you're looking to outsource your content marketing requirements to a group of professionals, get in touch with us today! So, what is the wait?